Deborah Calling
Posted on Jul 26, 2017 in Books | Comments Off

on Deborah Calling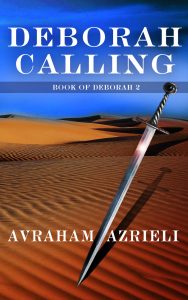 Deborah Calling (HarperCollins 2017), the second book in the "Deborah Rising" series, continues the fascinating story of the first woman to lead a nation in human history – the Biblical Hebrew leader Deborah. This entrancing work of visionary fiction—a tale of danger, mysticism, intrigue, and daring—will surely excite fans of The Red Tent, The Mists of Avalon, and The Alchemist. For a recent radio interview about "Deborah Calling": Refocus Magazine Radio
To Order a Copy:
PAPERBACK:
Amazon
KINDLE:
Amazon Kindle
Brief Synopsis of Deborah Calling:
Deborah's father dreamed that, one day, she would become a prophet—a seemingly impossible dream for a woman in a patriarchal society. To see her father's dream come true, Deborah made the cunning decision to become a man and sought out a mysterious elixirist who can turn women into men.
Under the elixirist Kassite's tutelage and training, Deborah learns the essential traits of masculinity and steadily grows stronger, building muscle and willpower. But Kassite requests something in return: he needs Deborah's help to escape the tannery and return to his homeland. It is the beginning of another thrilling adventure through the desert—a cat and mouse chase between Deborah and her violent fiancé who still hunts her, a chance meeting with an ancient healer with a prophetic message, and a revelatory spiritual experience in an abandoned cave.
As she continues on the path God has laid before her, Deborah witnesses the darkness that can take hold in the hearts and souls of men—evil that causes her to reflect on the wisdom, insight, and inspiration she has gained from the women in her life. Will becoming a man truly help her become a prophetess, or might there be another path? Visionary dreams, a mysterious eagle, and an extraordinary band of ex-slaves will help Deborah find the answer . . . and ultimately her calling.
A riveting adventure tale derived from traditional biblical fiction, Deborah Calling imagines the life of one of the most famous figures from the Old Testament as she continues on her path to becoming a prophet.