Deborah Rising
Posted on Sep 2, 2016 in Books | Comments Off

on Deborah Rising
Deborah Rising (HarperCollins, 2016) portrays the early events in the dramatic rise of the fir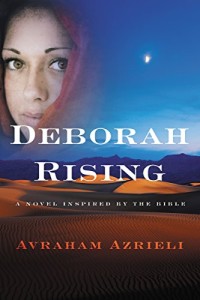 st woman to lead a nation in human history. (A sequel will be published in 2017.) In the tradition of The Red Tent, The Fifth Mountain, and The Mists of Avalon, this absorbing novel delivers an inspiring story of suspense and adventure in pursuit of freedom and self-determination, starring a courageous 14 year old who eventually became the most powerful woman in biblical lore.  "A masterpiece!" Manhattan Book Review.
To Order a Copy:
PAPERBACK:
Amazon
KINDLE:
Amazon
Reviews:
"A stunning historical fantasy-an epic journey that no reader could guess. It's nothing like anything I have read. Realistically told and captured the time period perfectly-can be read by teens and adults." Urban Lit Magazine
"The story of this young woman has moved me emotionally, spiritually, and has inspired me to re-connect with historical persons from biblical times by conducting my own research and studies. Highly Intriguing." Hollywood Book Reviews
"Deborah Rising is a perfect read for bible and history enthusiasts. Riveting!" The US Review of Books
"Deborah is strong, and her story is a compelling one. Azrieli does a masterful job at building up a tale that feels true to history. Realistic and vivid!" San Francisco Book Review
"Azrieli manages to vividly recreate the milieu of the story filled with biblical history, myths, fanaticism and sexism-he never condescends in sentimentalizing Deborah, who for all the tragedies she has endured, continues to survive while never losing faith. A seductive saga-peopled with a fascinating array of characters." Bookpleasures
"This enthralling story gives the reader an amazing insight into what life was really like for women at a fascinating time in history. I found this book absolutely absorbing and highly recommend it." The English Informer
"Well written, with multifaceted characters and a refreshing new approach to the biblical story of Deborah. Enjoyable!" Portland Book Review
"Rich description and engaging dialogue bring the story of Deborah to life. Though she lived long ago, her struggles will no doubt resonate with today's readers. The book is a page-turner, there are no lulls. Full of suspenseful adventure!" Oak Tree Reviews
"Not much is known about Deborah, but Azrieli sets down a captivating fictionalized life story for this incredible woman. Believable and engrossing-chronicling the life of one of the Bible's and history's greatest women." Pacific Book Review
"No story has ever hooked me right at the beginning quite like this one – Deborah's epic survival adventure as a Hebrew girl coming of age in biblical times. The character development was spot on, the descriptions of the sites and geography felt real and accurate, the action narration was vivid, involving all the senses within the imageries. It's entertaining, suspenseful, and heart wrenching – definitely a five-star captivating page-turner! Can't wait for the second book!" Susan Violante, The Reader Views
"Deborah Rising brings to light the injustice faced by women long ago and creates a strong female protagonist that is hard to come by. Well written!" Seattle Book Review
"Deborah Rising powerfully depicts the political, religious, and cultural landscapes of the Jewish people. The themes are as relevant today as they were many years ago — sexism, misuse of power, effective leadership, and political repression. Azrieli has a powerful gift for plot and character and for making history come alive. A masterpiece!" Manhattan Book Review
"Vivid descriptions, intriguing twists–not just drama, but an in-the-moment, you-are-there flair. Anyone who wants a superior, heart-pounding and inspirational read will find Deborah Rising not just a solid representation, but a thoroughly compelling saga that's hard to put down and ends neatly (but open-ended, holding out the hope of more stories). Readers are in for a real treat!" Midwest Book Review.
Brief Synopsis of Deborah Rising: Before he was murdered, Deborah's father had dreamt that his daughter would one day become the leader of the Israelites. But the social and religious mores of her time dictated that a woman must marry—even against her will—and obey her husband in all matters. When Deborah, at 14, is forced to marry the violent son of the local judge, she rebels, determined to forge a path of her own. Captivated by the notion of escaping the arranged marriage and fulfilling her late father's dream, Deborah embarks upon an epic journey to find a mysterious elixirist, one rumored to be blessed with the ability to turn women into men. It is a journey that proves increasingly perilous—filled with wild beasts, lustful men, unscrupulous priests, and warring tribesmen. Yet Deborah manages to attract unlikely allies, including lepers, slaves, Moabite traders, and even a dead tiger, while she persists in the face of seemingly insurmountable setbacks and continues to pursue her daring quest. Part historical novel, part adventure story, part visionary fiction, Deborah Rising  is a captivating tale about a girl on the cusp of womanhood, whose unrelenting struggle to overcome discrimination, abuse, and paternalism speaks to the lives of girls and women today.
Additional Praise for Deborah Rising
"Spine-tingling! Gripping! Even bloodcurdling! You will be transported to a front row view of one of the most compelling stories in Biblical history! This is one of those rare stay-up-all-night-to read novels that you cannot put down! Deborah's courage and resolve will live on with you after you turn the last page." —Glenna Salsbury, CSP, CPAE Speaker Hall of Fame.
"Avraham Azrieli depicts the early life of the ancient biblical prophet Deborah in an insightful, imaginative, and riveting manner." —Rabbi Israel Drazin, PhD.
"Avraham Azrieli takes you on a suspenseful journey through the Biblical landscape, a world both strange and dear to us. The well-researched book informs on the people and the land, with its mix of customs, faiths, social order and tribal histories. Deborah's adventurous quest for personal salvation calls for extraordinary courage and sheer will-to-live and the story line moves along briskly. A great book to share and discuss afterwards with family and friends!" —Hagit David, PhD and Michael David, PhD, Esq.
"In the first few pages you are drawn into the lives of the characters in Deborah Rising making this book a real page turner. The combination of history and intrigue brings alive the days and times of our ancestors. This is a must read." —Jennifer Gans, PhD.
"Deborah Rising explores what the back story of the biblical prophetess Deborah might have been. Personal tragedies and a lost childhood drive young Deborah to risk her life in search of personal salvation, but lead her to become the instrument of saving a host of others suffering afflictions and slavery. Azrieli weaves a very human and believable tapestry of characters you'll love or hate, with little middle ground. I can't wait to read future installments in this epic story." —Opher Ganel, PhD.
"Avraham Azrieli presents to his readers an epical adventure and, at the same time, a very moving human story which unfolds during the patriarchal world of ancient Israel: that of the rise of a prophetess, a judge and a leader. Deborah Rising is probably only the first act of a drama, which will present the fight and the hardships of a young woman in her attempts to define, against all odds, a historical destination for her life. By the time we finish reading about the dangerous encounters Deborah confronted in a world adverse not only to her but to large segments of a population, we close the book with the feeling that the story will evolve from an individual quest to the much larger picture of a human destiny." —Michael Finkenthal, PhD.